Blancpain Villeret Métiersd'Art porcelain "Year of the Rat" Classic style and top level of refinement-Blancpain created the Villeret collection for lovers of elegant luxury watches. Offering more than 100 different variants, this series is the manufacturer's most extensive series.
The names of these amazing timing devices were inspired by the original location of Blancpain (Villeret Town). Villeret is a vivid reflection of the house tradition. With this product line, the legendary Swiss watchmaker returns to its origins as it was in the Bernese village of the Villeret series in the 18th century, the history of this watchmaking company began. Even though the brand moved to Le Brassus at the end of the last century, Blancpain remained committed to its home country. Les Brassus has a population of only 1,000 citizens. Thanks to Blancpain, this place is known to all mechanical watch connoisseurs.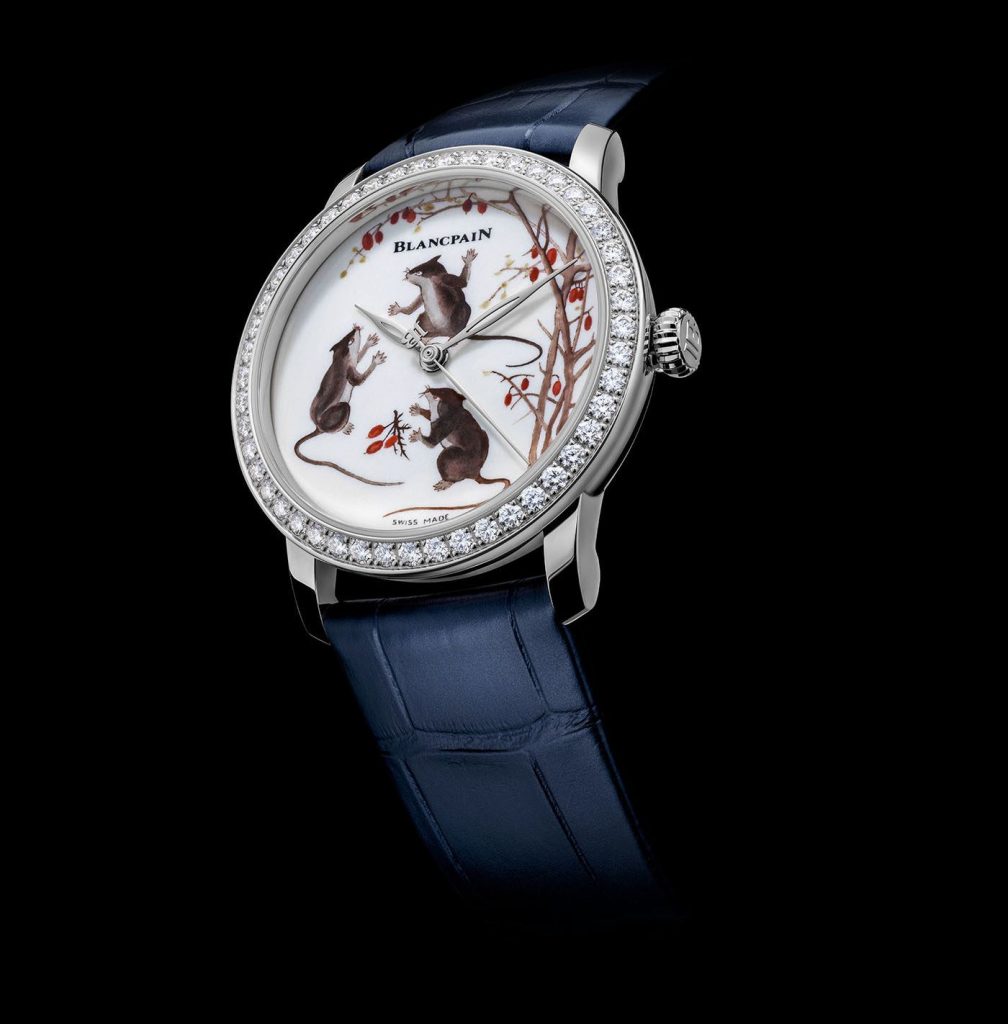 To celebrate the Chinese Year of the Rat, Blancpain has introduced the first luxurious dial entirely handmade from porcelain. The unique Villeret Métiersd'Art series adds majestic novelty-Métiersd'art porcelain "year of the rat" limited edition of eight. The event marked the rise of porcelain making in the arsenal of Le Brassus, a famous manufacturer.
Making dials with porcelain is an art that requires skill and patience. It consists of several stages with longer drying and firing stages. Porcelain powder exists in powder form and is mainly composed of quartz, feldspar and kaolin, which are first dissolved in water. The resulting paste-like substance was repeatedly filtered to eliminate it from impurities. The composition is then poured into a mold, which will repeat the shape of the future dial. After being taken out of the mold, the billets were dried for one day, and then they were fed for the same period of time to be fired at a temperature of 1000 ° C. During the first firing process, the dial is hardened and ready for enamel applications. Strictly apply enamel by hand, and then burn the dial for another day at 1300 ° C. during this process,
In the exclusive collection of Métiersd'art porcelain "Year of the Rat", porcelain is combined with painted enamel. With the help of the thinnest brush, a miniature with three rat images was manually applied to the dial. Prolonged burning at a temperature of 1200 ° C helps to fix the color on the porcelain. In order to reach such a temperature when working on a dial, it is impossible to coat the dial with enamel on a gold substrate, which opens up new opportunities for choosing the saturation of colors and shades.
The magnificent Métiersd'art porcelain "year of the rat" timepiece is based on the self-winding movement 1154, which can be viewed carefully through the transparent back cover. The 33 mm case is made of white gold. Bezel set with 48 classic cut diamonds. This exquisite watch can be worn on a strap made of crocodile leather.